Address: 615 E Huron St, Ann Arbor, MI 48104
Why we know you'll love it:
The Graduate Ann Arbor is perfect for the spirited intellectual; someone who appreciates tradition while embracing new ideas. Located in the heart of Ann Arbor, right across from the University of Michigan, this hotel is the perfect spot for weddings, university meetings, and corporate events. The interior design highlights the rich culture of the area. Traditional wood and leather finishes combined with avant-garde touches give the perfect mix of prestige and playfulness. 
Why Kleinfeld Hotel Blocks Recommends this hotel:
The Graduate Ann Arbor offers three ballrooms of varying capacities to provide accommodations for groups from anywhere from 3 to 300. There is a venue for each type of event, from weddings to corporate events. There is access to an elegant outdoor terrace, so you and your guests can continue the good times out in the fresh air. No matter which venue you choose, the in-house catering team will work with you to create a custom menu for your event that is sure to impress. The best part? The Graduate Ann Arbor provides a 3D model of each venue on their website to help you visualize your dream event unfolding before your eyes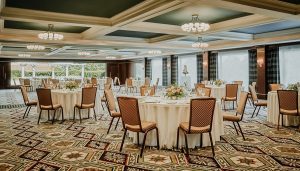 Insider Recommendations:
Need to grab a bite or fuel up before you take on the day? Start your morning with a delicious cup of coffee and a wide selection of pastries at Poindexter Coffee located at the lobby level. For more hearty offerings, check out the Allen Rumsey Cocktail Lounge, to get a taste of its retro, old-school charm. 
When you are not at the hotel, Ann Arbor offers over 400 unique restaurants and dining destinations such as a local classic, Zingerman's Delicatessen where you can experience a taste of the historic Ann Arbor Farmers Market.
Want to book your hotel room block or event space at Graduate Ann Arbor?