Address: 1630 E 6th St, Austin, TX 78702
Why we know you'll love it:
Finding a place to entertain guests and make memories that last a lifetime has never been so fabulous! Treat your guests to the finest of southern charm at the glamorous Sentral apartments located in East Austin. Sentral offers two buildings ideal for short or long getaways; Austin at 1614 E. Sixth & Austin at 1630 E. Sixth. If you're looking to book a place to stay that offers both fashion and function, this property checks all the boxes!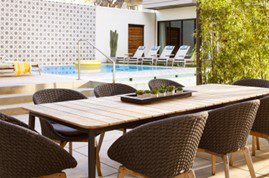 Why Kleinfeld Hotel Blocks powered by LM Media Worldwide recommends this hotel:
These modern properties give you a taste of city life in the heart of Texas, with their stylish designer interiors and state-of-the-art amenities. You and your guests will have access to the on-site pool, fitness center, and parking garage, as well as complimentary Wi-Fi in the common networking and meeting spaces. Sentral East Austin has several different guest suite layouts to choose from. They all come elegantly furnished and complete with full kitchens so you can make yourself at home! Select suites have access to private balconies to take in the gorgeous Austin views. We can help you score the best deals and perks to make the most out of your stay!
The apartments at Sentral East Austin offer flexible workstations that invite collaboration, and unique entertainment spaces that allow for indoor-outdoor gatherings. Need to wind down after a long day of hustle and bustle in the city? Roll-up doors provide access to tranquil courtyards so you and your guests can sit back, relax, and take in a slice of countryside comfort. Great news–pets are allowed! Curl up with your favorite pups and people and let the good times roll.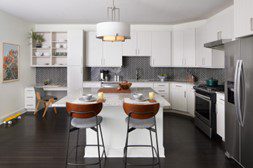 Insider Recommendations:
During your stay, be sure to explore exciting attractions in East Austin, like the Austin Aquarium and Fiesta Gardens at the Waterfront. Check out eclectic boutiques like Allens Boots to find all the gear you need to saddle up like a true Texan. Afterward, stop for a bite at Launderette Restaurant and round it all up by dancing the night away at Low Down Lounge. 
Want to book your hotel room block or event space at Sentral East Austin?