With many couples having to postpone their wedding plans due to the impact of Coronavirus, couples have turned to minimonies as a way of honoring their original wedding date.
A minimony is a mini-ceremony often restricted to 10 guests and followed by an encore wedding where couples plan to have a larger celebration where they can invite more friends and family.
We've seen photos all over social media of couples hosting minimonies on their lawns, in their living rooms, at a nearby park, etc. But with NYC living being pretty compact, we reached out to our partnered hotels to see which ones might have venue space that could accommodate a small wedding such as a minimony.
It's worth noting that many of these hotels can accommodate larger groups and they're also booking room blocks if guests need to stay at the hotel, but for our purposes, we're going to focus on the hotel as a minimony venue.
The Mondrian Park Avenue
Officially reopened as of July 2020, the Mondrian Park Avenue is a luxury hotel located in the NoMad (North of Madison Square Park) neighborhood of New York City. The Mondrian Park Avenue offers two great spaces which can accommodate a socially distanced ceremony of 10-50 guests, plus they both offer outdoor terraces. The first space is the Mondrian Terrace Lounge and the second is the PIET Suite Penthouse which is a 2-bedroom suite with 3 balconies.
The Mondrian Terrace is 2,900 sq. ft. of indoor/outdoor space so rain or shine, it's a great location. Indoors the space is 1,100 sq. ft. and outdoors it's 1,800 sq. ft., which is plenty of space for any minimony set-up you'd like.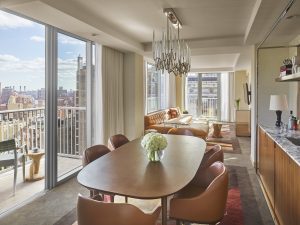 The hotel also offers a variety of hotel suites with balconies, but for a 10-50 guest ceremony, we'd recommend the Piet Suite located on the top floor of the hotel. The room itself is 1,275 sq. ft. of presidential luxury. It's a two-bedroom suite with 3 balconies which is perfect to host your minimony but it's also a great option if you want a place to stay with a few family members.
The Piet Suite has a master bedroom with a king bed, a queen bedroom, living room, a dining room that seats 6 and 3 balconies. The views are spectacular as well so if you're looking for something to make your wedding day extra special after having to postpone or cancel a larger celebration, we love the idea of hosting in a luxury suite such as the Piet at the Mondrian Park Avenue.
See their updates Covid Policies here.
The Fairfield Inn & SpringHill Suites New York Manhattan/ Times Square South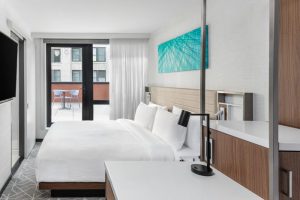 Opened in April 2019, the Fairfield Inn & Springhill Suites New York is brand new. Typically, you don't expect this hotel chain to have venue space but in New York City the national chains tend to do things differently. For example, the SpringHill Suites, which is an all-suite property, has king guest rooms with the option of a terrace, which is great for some fresh air but also photo ops.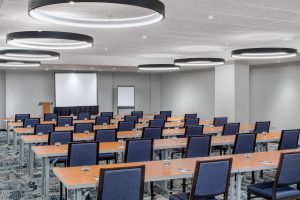 In terms of venue space, the hotel has a 2,000 square foot room located on the lower level of the hotel, which typically seats up to 80 people but with social distancing policies, they would allow a maximum of 40 guests. If you're hosting a minimony that could mean part of the room is set-up for the vow exchange while the other half is set-up for a quick bite to eat and a celebratory cocktail.
If you plan on traveling or have guests that may need to travel, please check the travel guidelines listed hereand you can also read Marriott's Global Cleanliness Council here.
Cambria Hotel New York – Chelsea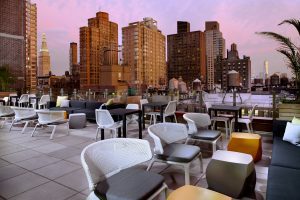 Tucked away in Chelsea's Flower District is a little gem, the Cambria Suites. It's near Kleinfeld Bridal, the High Line, Hudson Yards, Penn Station, Times Square, etc. and even though it's in the center of it all, we've always loved that it doesn't feel that way. It's a spot that even celebs will frequent for lunch knowing they won't be on page six the next morning.
For a minimony they have two spaces that work well. Their rooftop could comfortably service 25 while following social distancing measures and they also have a one-bedroom suites with an outdoor terrace that could host about 5 people with social distancing.
The Hyatt House Chelsea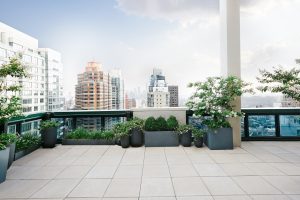 The Hyatt House Chelsea opened in 2017 as NYC's first Hyatt House, a flagship for the Hyatt hotel brand. It's designed to accommodate long-term guests and feel like apartment living with kitchenettes in the rooms and even connecting rooms for larger families. The hotel also normally includes breakfast but with Covid-19, many hotels have temporarily paused their food and beverage service, so this is something to double-check if it's important to your hotel stay.
For a minimony, their 1,300 sq. ft. rooftop outdoor space could host 10-15 people while following socially distancing measures.
For access to any of these venues and/or to book a hotel block at any hotel, take advantage of our free booking service that handles all of the negotiations for you.