Address: 220 Bloor St W, Toronto, ON M5S 1T8, Canada
Why Kleinfeld Hotel Blocks recommends this hotel?
Once named "Best Luxury Hotel" by the World Luxury Hotel Awards, the Intercontinental Toronto Yorkville is all about modern luxury. Located in the exclusive neighborhood of Yorkville, the hotel has a SkyLounge outdoor patio, marble bathrooms, and even a lap pool. We also love a bay window which the hotel has in their spacious rooms along with Nespresso machines, a tea kettle (we know how important this is for a proper cup of tea), and the plush bathrobes.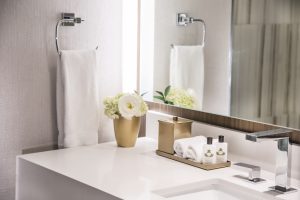 Why we know you'll love it?
If you need a room to get ready in, this hotel has options ranging from 424 to 1,400 sq. ft. which works well for small or larger wedding parties. Plus as one of our premiere hotels, we've negotiated special concessions for our couples and they're too good to pass up. We can't post all the details publicly but let's just say if you use our service to book a room block here expect to see the word "complimentary" a lot in your room block agreement.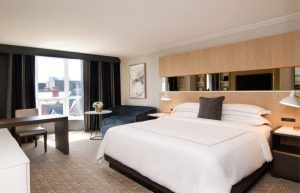 Why this hotel stands out?
As a 4-star, this hotel is one of the most affordable hotels in the Yorkville area that offers modern luxuries. The variety in room types, suite categories and meeting space makes it one of our most popular hotels booked in the Toronto area. Is also right across the street from the Royal Ontario Museum, it's near the University as well as many art galleries and high-end restaurants.
Ready to book a room block?