Address: 246 Spring St, New York, NY 10013, United States
Planning an event in New York City? Let us reserve a hotel room block for your group at The Dominick. 
Picture this: your event is around the corner, and you want to ensure that your guests have a comfortable and hassle-free stay. Our team of professionals at Kleinfeld Hotel Blocks powered by LM Media Worldwide will simplify the hectic event planning process by securing a hotel room block for you and your guests at your dream hotel! We are eager to guide you through the booking process, ensuring a seamless experience from start to finish. 
Start by providing us with key details about your event, such as the dates, estimated number of guests, and any specific requirements or preferences you may have. Armed with this information, our team can assess room availability and tailor a room block proposal to suit your needs. By reserving a block of rooms, you eliminate the stress of individual bookings, saving time and effort for everyone involved. Plus, your attendees can enjoy exclusive access to comfortable accommodation at a competitive rate – a win-win situation!
If you're looking to host a memorable event in the heart of Manhattan, The Dominick Hotel in SoHo makes a statement as the pinnacle of sophistication and style. This stunning property offers elegant rooms, breathtaking city views, on-site dining, and many more exceptional amenities. Whether you're organizing a corporate conference, a dreamy wedding, or a long-awaited family reunion, The Dominick Hotel is well-equipped to cater to your needs.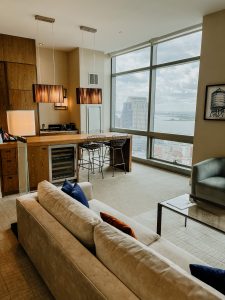 Kleinfeld Hotel Blocks powered by LM Media Worldwide strongly recommends this hotel… Let us tell you why!
The Dominick is located in the heart of Manhattan's trendy SoHo neighborhood, which puts it at the top of our list if you're looking to give your guests a taste of the wonders of New York City. When it comes to accommodations, The Dominick aims to provide an exceptional experience. Their elegant and spacious rooms offer a perfect blend of comfort and style, allowing guests to relax and unwind after the big event or a fun day exploring the city. From stunning views of the iconic NYC skyline to luxurious amenities, every detail has been carefully curated to create a truly breathtaking ambiance. If you're looking to make your stay even more special, The Dominick Hotel regularly provides enticing offers and packages for their guests. We can negotiate discounted rates, complimentary amenities, and exclusive access to additional services. 
The Dominick Hotel boasts a range of on-site dining options that cater to every guest's taste. Whether you're in the mood for a sophisticated fine dining experience or a casual meal with friends, their diverse culinary offerings won't disappoint. Visit Vestry, The Dominick's new signature restaurant, featuring gourmet offerings by Michelin Star Chef Shaun Hergatt. For modern Asian-Hawaiian cuisine, check out El Ta'koy for lunch, dinner, and weekend brunch. To unwind after a busy day in the city, enjoy the stylish and inviting atmosphere of Mezzanine, the hotel's bar which offers specialty cocktails and premier wines and spirits.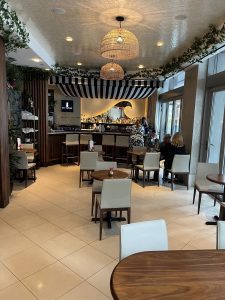 When it comes to hosting events, The Dominick Hotel has you covered. With versatile event spaces that can accommodate everything from intimate gatherings to weddings to large-scale conferences, they offer the perfect setting for any occasion. Consider either the Tribeca or Landmark Penthouses for more intimate gatherings of up to 40 guests. The Terrace on 7 is perfect for hosting up to 150 guests amidst gorgeous NYC views with access to El Ta'Koy bar and restaurant. For an elegant black tie event or a standing engagement party, choose the two-story Duplex Penthouse which encompasses the 43rd and 44th floors. On the 3rd floor, elegant ballrooms and spacious outdoor terraces await for beautiful weddings and formal events. To meet with your team and liaise with clients, look no further than the iconic SoHi Boardroom. No matter the type of event you are planning, you can count on us to connect you with The Dominick's expert event planners. Their team is dedicated to making your event a success, providing personalized service and taking care of all the details to ensure a seamless experience.
The Dominick Hotel also boasts a range of amenities that cater to the needs of their guests. Relax and rejuvenate at their luxurious Sisley Spa, where skilled health and wellness professionals offer a variety of treatments to help you unwind and recharge. Stay in shape at their state-of-the-art fitness center, equipped with modern equipment including Peloton bikes and offering panoramic views of the city while you work out. For those who want to enjoy a swim, their outdoor pool is the perfect spot to soak up the sun while taking in the breathtaking skyline.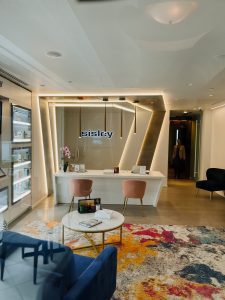 Insider travel tips from the experts at LM Media Worldwide:
While in NYC, check out Ladurée New York – Soho for some gourmet French-style macarons and confectioneries. Experience the various attractions and events at Washington Square Park on foot or by Citibike with friends and family. For sports fans, visit the Chelsea Piers world-class sports and entertainment complex to try out the rock-climbing wall, driving range, and many more special amenities.
The Dominick Hotel in New York City offers a truly exceptional experience in terms of rooms, dining, special offers, event spaces, and amenities. Whether you're booking a hotel room block for a business event, social gathering, or formal occasion, our team at Kleinfeld Hotel Blocks powered by LM Media Worldwide is eager to learn more about your event and reserve a hotel block for you and your guests. We believe this luxurious hotel will exceed your expectations and leave you with memories to last a lifetime. 
Want to book your hotel room block at The Dominick?