Address: 500 Harbor Blvd, Weehawken, NJ 07086
Why Kleinfeld Hotel Blocks recommends this hotel?
The Sheraton Lincoln Harbor is special for two reasons: the views & it's an all-suite property. Because it's in New Jersey, the hotel has fantastic views of New York City. You get that full skyline effect which is only possible from New Jersey.
Also because it's an all-suite property, the hotel rooms are larger which is essential when getting ready for the big day.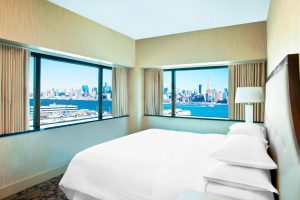 That being said you can still upgrade the suite types. For example, the water view Executive Suite is all about the presidential experience.  It has a complete separation from bedroom to living room, an oversized conference boardroom table, and convenient pantry nook.  It's an ideal room for bridesmaids to get ready in, the groomsmen or you could even host an intimate event in that suite like a breakfast or dinner.
Why we know you'll love it?
The Sheraton Lincoln Harbor is really a one-stop-shop. it's a good option for venues such a cruise, the Chart House, or anything in Hoboken, but they also have a ton of meeting space onsite which means you can host additional events. The Sheraton Lincoln Harbor has over 6,000 square feet of flexible meeting space with natural light, meaning you can host up to 200 guests. Of course, with COVID-19 many events are on the smaller side, but with 6,000 sq. ft. of space you can go big or small.
Also when guests aren't at the wedding, there is onsite dining such as the Sheraton's in-house signature restaurant, Jack Austin's Eat + Drink.  Their restaurant has private dining rooms, a lobby part and outdoor patio seating. And of course, the restaurant has fantastic NYC skyline views.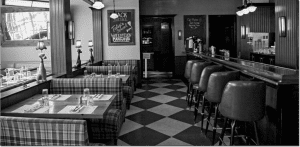 Why this hotel stands out?
The Sheraton Lincoln Harbor has a lot of options onsite such as all the meeting space, the large rooms and proximity to waterside venues in New Jersey but it's also just a 6 min. ferry ride into Manhattan so for guests who want to explore NYC, it's very close and convenient, plus the ferry ride has great views of both the hotel and NYC. We'd definitely recommend scheduling some time to snap some wedding photos on the water. 


Want to get rates from the Sheraton Lincoln Harbor? Ready to start planning your room block?