Address: 808 S Michigan Ave, Chicago, IL 60605
Why we know you'll love it:
Get the full Chicago experience while having the comfort of your home-away-from-home. Enjoy stunning views and the finest amenities in the upscale, fully furnished apartments at Sentral Michigan Avenue. No matter the occasion, this property offers the perfect blend of luxury and practicality to give you and your guests a stay that is beyond your most extravagant dreams.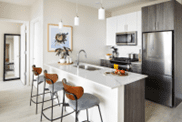 Why Kleinfeld Hotel Blocks powered by LM Media Worldwide recommends this hotel:
This amazing property features a four-story indoor garden, a hydrotherapy spa, infinity pool, and fitness center for you and your guests to enjoy. There are a variety of floorplans to choose from, depending on your needs, all complete with full kitchens and premium furnishings. Select the suite with your desired view, whether you'd like to wake up to the beautiful waters of Lake Michigan, or embrace city life with a sweeping view of the Downtown Chicago skyline. For more intimate gatherings, visit the cozy entertainment lounge to challenge your guests to a game of billiards. Then, take advantage of the open-air grilling station and cook up some famous Chicago hot dogs surrounded by your favorite people. If you need a place to talk business during your stay, this building has both private and common workstations that encourage collaboration and lively discussion.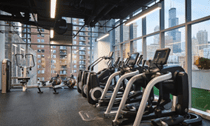 Insider Recommendations:
Sentral Michigan Avenue is located right in the heart of Chicago's South Loop, which is home to iconic attractions like The Bean at Millennium Park and the Art Institute of Chicago. Tourist attractions aside, if you want to experience the city like a real Chicagoan, check out the South Asian cuisine on Devon Street and stroll down Ravenswood Avenue to try out the numerous breweries which gave the street its nickname "Malt Row." After all the festivities of your trip, relax and rejuvenate by booking a massage and facial at Kohler Waters Spa.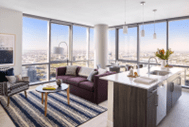 Want to book your hotel room block or event space at Sentral Michigan Avenue?