Address: 1315 16th St NW, Washington, DC 20036
Why Kleinfeld Hotel Blocks recommends this hotel? 
Brand new, 144 studio-like designed guest rooms + suites, Kimpton Banneker Hotel Located in the heart of Washington, D.C. at the crossroads of historic Embassy Row formerly known as millionaires row and Church Row is now accepting reservations! Surrounded by Historic event venues, 18th century churches, historic art galleries, mansions, shopping and underground dining, theaters and the Carnegie of Science. This 10-story distinct and sophisticated boutique hotel engages guests in the rich history and urban culture of the nation's capital. Not many hotels can say the White House is in their neighborhood.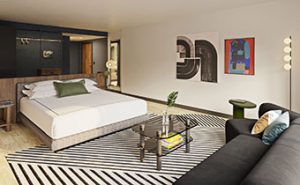 Why we know you'll love it?
The Banneker features curated artwork throughout, along with 3,800 square feet of flexible indoor and outdoor meeting space, an intimate and relaxed French bistro with alfresco dining and ideal for rehearsal dinners or post wedding Brunch, and a year-round rooftop bar and open air deck with iconic views of the Washington Monument and the White House, which sits just six blocks away. What's really special is their Chef, Laurent Hollaender, who puts his authentic accent on all events. Oooh lala (btw Paris declared Washington, DC its sister city in the early 1800's)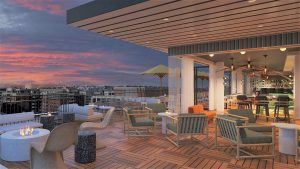 Why this hotel stands out?
The Banneker is curating the "new" everyone is looking for in communal events with their unique wedding packages including:
Micro Wedding packages for 10-40 guests. The soul of our wedding packages is our "Urban Bliss" says Dennis Hernandez, Director of Sales + Marketing which includes a couples crafted guest signature welcome cocktail, ceremony, couples massage, champagne toast, dinner + spirits, cake + song + guest sleeping rooms. Another favorite is The Madame VIP bachelorette package which is an intimate in-suite just us girls celebration, ending under the stars atop in Lady Bird and our Last Single Swing, the bachelor package includes transportation to/from a local golf club with a Banneker packed fresh lunch basket ending and more. So fun!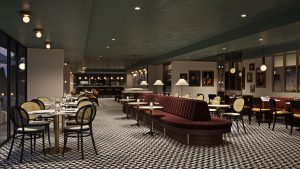 Want to book your wedding room block at the Kimpton Banneker Hotel ?