Why Kleinfeld Hotel Blocks recommends this hotel? 
The InterContinental New York Times Square is unmatched. From its location, in the heart of Times Square, to the chic and modern design of the hotel. Built-in 2010, the hotel is a stand-out venue, with a majestic canopy entrance, a grand lobby with a Zen garden in the center, and art adorned common spaces, creating a glamorous arrival experience. The delightful sights are complemented by a fully-staffed Lobby, and the thoughtful service and expertise the hotel staff provides.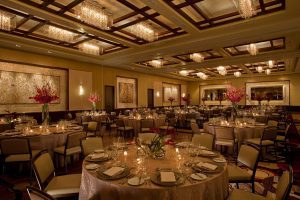 Why we know you'll love it?
Rising 36 stories above Times Square, the InterContinental New York Times Square is a peaceful sanctuary with a chic Manhattan residential feel. Situated on Eighth Avenue, the hotel is in the Times Square neighborhood and boasts modern room accommodations with floor-to-ceiling windows for stunning panoramic views of the Manhattan skyline and Hudson River. The hotel is built with state-of-the-art services and amenities backed by InterContinental high standard of services. IHG Way of Clean program redefines cleanliness and supports your wellbeing and safety throughout your stay.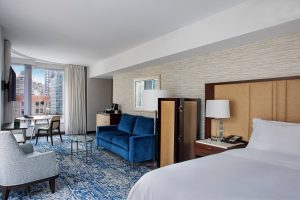 For you and your bridal party, the hotel includes a collection of unique suites with modern urban décor and spa-inspired bathrooms. The duplex penthouse offers plenty of space for a rehearsal dinner or a small reception, and private quarters for the Bride and Groom.
Why this hotel stands out?
Picture-perfect locations are found throughout the hotel and in nearby Bryant Park, Central Park, and Grand Central Terminal. All are fabulous wedding locations, not to mention photo backdrops with beautiful, iconic buildings such as The Empire State and Chrysler Building.
One of our favorite spots is the lobby lounge at Stinger, adorned with a working fireplace and mural arts. This location can be reserved for your group's arrival or to host a private reception. Lobby-level private salons and the Washington Square Park Ballroom provide natural light and privacy for your group.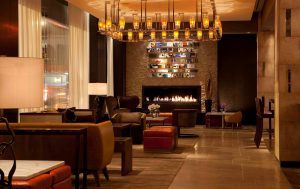 Getting married in New York City is the dream of many couples, and getting married in the center of the world, at Times Square, is the cherry on top. No one will miss the opportunity to attend your event, steps from the heart of the City that never sleeps.
While the InterContinental New York Times Square provides the restful luxury you deserve on your wedding week, it also lets you experience the magic of Times Square from the million-dollar views of your private suite!
Want to book your wedding room block at InterContinental New York Times Square?