Address: 132 W 27th St, New York, NY 10001
Why Kleinfeld Hotel Blocks recommends this hotel? 
Stay, disconnect and get inspired. Get away from it all or don't miss a thing. You're probably wondering, how can I do that? Well, your answer is: staying at The INNSiDE by Melia New York Nomad Hotel.
The INNSiDE New York is an urban and lifestyle hotel under the Melia Hotels International umbrella, often referred to as a "hidden gem", nestled in the trendy neighborhoods of Chelsea and Nomad. So basically, far enough away from the masses to get a good night's sleep, but still close enough to never miss a beat. All is within reach at The INNSiDE New York.
Our Happy Wedding Couples often get married nearby at popular venues such as Pier Sixty, Glasshouses or at one of the fine, art galleries in Chelsea.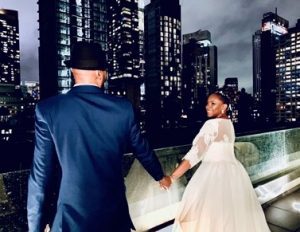 Why we know you'll love it?
Opening its doors in 2016, INNSiDE New York offers stylish, Spanish influenced interiors in the public spaces and clean, minimalistic German influenced interiors in the guest rooms. The rooms at INNSiDE New York run larger than the NYC norm for extra comfort and pleasure. Couples typically get upgraded to INNSiDE New York's Townhouse Suite or Townhouse Suite with a Terrace. Why not feel like a celebrity? You're in New York City, after all.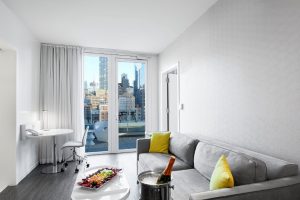 Melia Hotels International refreshed INNSiDE New York in 2018 with a full lobby and restaurant renovation. But, they weren't done there! In 2020, INNSiDE New York debuted their brand new wellness center, InFit, on the 20th floor with gorgeous downtown New York City views and a third flexible meeting space with a spacious, outdoor patio. What we love about the new InFit Center is that INNSiDE New York partnered with Wexer Technologies for guests to enjoy cycling or virtual classes to train at their own pace.
INNSiDE New York also offers plenty of outdoor space including a Garden, Front Patio and seasonal patio at the restaurant, The Wilson. And why stop there? INNSiDE New York offers three creative, flexible meeting spaces that can be transformed as a gathering place for The Happy Couples' friends and family or a place to glam up for the big day.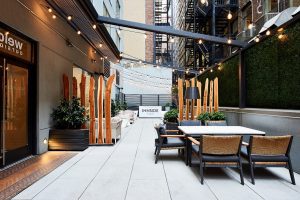 Why this hotel stands out?
Let's face it, in today's world we're promoting health and safety standards first. Melia Hotels International and INNSiDE New York have completely revamped their operational strategies ensuring the safety of all guests and employees alike in these times. INNSiDE New York has implemented several safety measures such as enforced social distancing, installed protective screens in public areas, placed a capacity reduction in all areas, perform temperature checks upon arrival for all staff and guests, upgraded cleaning equipment, installed sanitizing stations in all public areas, offer complimentary PPE for guests and even have a "StaySafe Ambassador" on property to answer all COVID related procedures. Melia Hotels International and INNSiDE New York have been accredited by Bureau Veritas and World Travel and Tourism Council for their safety practices.
INNSiDE New York specializes in curating a unique journey for all their guests, offers competitive rates, spacious rooms with fantastic views of New York City, Melia Rewards Points (which can be redeemed at all-inclusive resorts worldwide), waive hotel facility fees and honor courtesy blocks.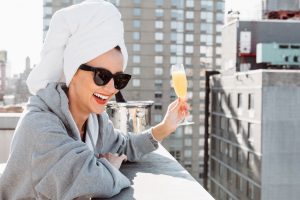 Want to book your wedding room block at
INNSiDE New York?