Address:22 N Loop Rd, New York, NY 10044
Why Kleinfeld Hotel Blocks recommends this hotel? 
Located on picturesque Roosevelt Island, Graduate Roosevelt Island is centrally located in the East River between Manhattan and Long Island City. This provides easy access to venues in Manhattan, Queens, and Brooklyn such as The Foundry, The Bordone, Sound River Studios, The Water Club, The Loeb Boathouse, Gustavino's, and many more. The hotel is easily accessed via the F train, Tram, NYC Ferry, and by car.
Graduate Roosevelt Island offers bright, modern spaces with unobstructed views of the Manhattan and Queens skylines, providing a unique backdrop for your special day. The hotel has an assortment of connecting rooms and suites so you, your family, bridal party, and dear friends can create special memories.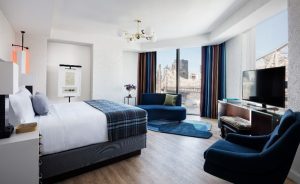 Why we know you'll love it?
Every guestroom and event space has an incredible view of the skyline and the East River. The rooms are modern, chic, and spacious, ensuring your guests will have a fun and relaxing celebratory weekend.
Hotel event spaces include The Panorama Room, a rooftop bar and lounge that is perfect for afterparties or rehearsal dinners. True to its name, the space features an amazing panoramic view of the entire city.
The hotel's central location also makes it easy for your guests to get out and explore the city while they are visiting. Less than 20-minutes away via the F train to most Broadway theaters and Midtown restaurants, your guests can venture out and sightsee at their leisure. The property is also just steps away from Roosevelt Island's beautiful and iconic Tramway, which takes passengers quickly over to Manhattan's Upper East Side.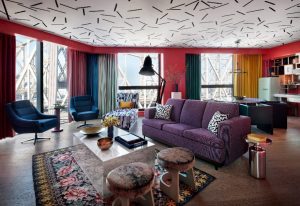 Why this hotel stands out?
Graduate Roosevelt Island is a brand-new hotel, which has just opened on June 1st, 2021.  It's the very first and only hotel on Roosevelt Island, and the unique location offers some of the best views we've seen in the entire city.
Because you will be staying just steps away from the East River, the location provides plentiful opportunities for first-look and bridal party photos with the Manhattan skyline as your backdrop.
The hotel was designed by internationally renowned design firm Snøhetta.  From the moment you enter the lobby, the futuristic, fashionable, and the functional meld to create a space that's bright, open, and always interesting.  A 13-foot statue of the artist Hebru Brantley's Iconic Flyboy welcomes you with a curious and inquisitive nature.
Whether you and your guests are seeing New York for the first time, or looking for a new view of your favorite city, Graduate Roosevelt Island will make sure your special weekend is memorable every step of the way.
Want to book your wedding room block at the Graduate Roosevelt Island?