Address: 929 S Broadway, Los Angeles, CA 90015
Why does Kleinfeld Hotel Blocks recommend this hotel?
Ace Hotel Downtown Los Angeles is the hotel at the heart of the Broadway Theater District's vibrant modern renaissance — a cornerstone of culture that's full of history, character and energy. It's a perfect spot for creative couples looking for a space that's contemporary, considered and totally singular.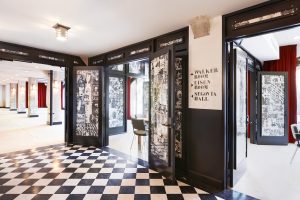 Why we know you'll love it?
A living piece of Golden-era Hollywood history, Ace occupies the 14-story Spanish Gothic office tower and flagship Theatre of United Artists — the maverick film studio founded by Charlie Chaplin, Mary Pickford, Douglas Fairbanks and D. W. Griffith — with every detail lovingly restored and modernized to retain the building's Old-Hollywood glamour. 
If you're looking for a luxury suite for wedding prep or honeymoon extravagance, the 633 sq ft Ace Suite comes with a wet bar and a large, 500-square-foot private terrace that's also ideal for intimate brunches & rehearsal dinners. The hotel also features 15 loft suites — perfect places for groomsmen to get ready, or for overnights with your wedding party VIPs — and each room comes with a highly curated minibar, custom furniture, artwork from local and international artists, custom wool blankets by Pendleton, bathrobes by wings+horns and more.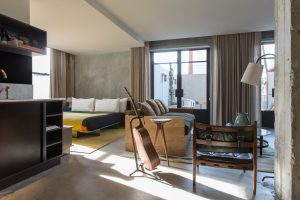 Ace Hotel DTLA is also walking distance to upscale retail shops, nightlife, and some of the best restaurants Los Angeles has to offer — not to mention it's just a stone's throw from some of LA's most coveted wedding venues: Vibiana, South Park Center, Marvimon venues, HNYPT and more.
Why this hotel stands out? 
Alongside its accommodations, Ace offers several of its own remarkable reception venues: the historic Theatre at Ace Hotel, a delicately restored movie palace from the 1920s with a massive, three-story grand lobby, plus a classic neon marquee you can reserve to declare your love to the world; an open air rooftop complete with a pool and unparalleled views stretching out in all directions;  a ground level restaurant complete with a mezzanine event space; and Segovia Hall, a second floor space that can accommodate up to 150 guests.  Other one-of-a-kind amenities: a vintage photo booth in the lobby, and for confirmed wedding blocks, a whole ornate hotel you can use as a backdrop for your wedding photos, compliments of the house.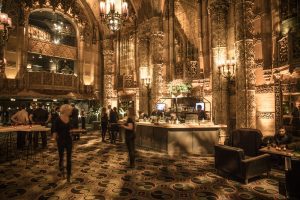 Want to book your wedding room block at Ace Hotel Downtown Los Angeles?