Address: 39-05 29th St, Long Island City, NY 11101
Why Kleinfeld Hotel Blocks recommends this hotel?
Long Island City has become increasingly popular as a wedding destination particularly with venues such as The Foundry, the Metropolitan Building, and the Renaissance Event Hall, but finding the right hotel remains a challenge. Couples typically book in the immediate area of Long Island City or across the Queensboro Bridge in Manhattan, but we like to recommend that guests stay close to the venue, in which case the Holiday Inn LI City- Manhattan View becomes a great option. The hotel is a high rise building with great views of the city from many rooms. It's also less than 2 blocks from a subway making it easy for guests to travel throughout the city and it's minutes from the 59th street, Queensboro Bridge which makes cabs affordable as well.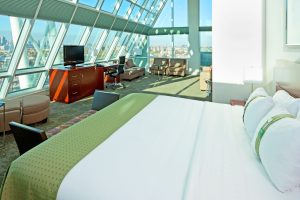 Why we know you'll love it?
The hotel has competitive room rates for your guests but it also has a great suite, the Manhattan Suite, which is on the top floor of the high-rise with 2 balconies giving you stunning views of the Manhattan skyline. The hotel also has upgraded king and queen bedded rooms with balconies which are a great option as an upgrade for wedding VIP's such as parents, plus they have a few other junior suites with balconies as well including some with 2 beds for families.
All suites are on the top two floors of the hotel, meaning they all have great views.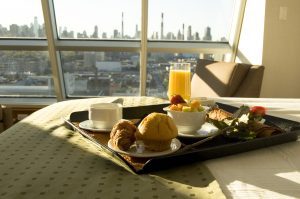 Why this hotel stands out?
Aside from the views and location, the hotel also has parking onsite for $30 per night per vehicle. It's a smaller parking lot so they do require that guests reserve these spots in advance to guarantee a space but for guests that are driving in and may want to spend the night, it's nice to not have to search for parking in a parking scarce city like NYC.
Getting Married in Long Island City?