Address: 1244 N Dearborn Pkwy, Chicago, IL 60610
Why Kleinfeld Hotel Blocks recommends this hotel?
The Claridge House completed a $9 million renovation in the Fall of 2018 making it a gem in one of Chicago's most historic neighborhoods; the Gold Coast. It's minutes from Oak Street Beach as well as upscale restaurants and boutiques which historically have lined the neighborhood. The rooms are large, clean and comfy, which is exactly what we look for in a premiere hotel and the hotel is also set on a quiet residential street making it a bit more intimate for a wedding.
Some nearby wedding venues include: the Floating World Gallery, Restoration Hardware, the Chicago History Museum, Chicago Nature Museum, Cafe Brauer, Theater on the Lake, Salvatore's, and Cooper Hawk's Esquire.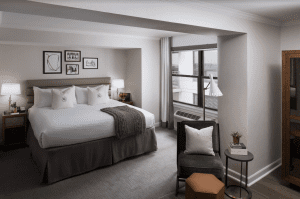 Why we know you'll love it?
The hotel is boutique with only 165 rooms but of those rooms they offer a variety of suites and connecting rooms which provides nice options for families traveling. They can also host a pre or post wedding brunch, an after party or a welcome toast in their Juniper restaurant. Given the intimate nature of the hotel, they can host a small rehearsal dinner of 20-30 people but there's also plenty of nearby restaurants if you needed a larger venue.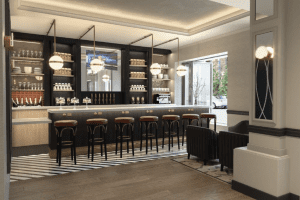 Why this hotel stands out?
It's all about personality with the boutique Claridge House. You wouldn't necessarily think of a 4-star hotel in Chicago with a studio spa and beach access, but nestled on a Gold Coast residential street, is the Claridge House providing exactly that. Their location is also close to subways and major attractions, they're pet friendly, plus the appointment only studio spa is a nice perk if you or your guests want to enjoy facials, massages or mani-pedi's.
Link below if you'd like details on the free wedding perks the hotel offers as well as the discounted room rates.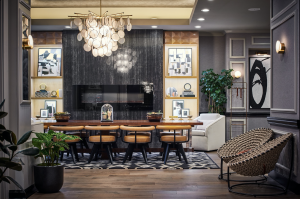 Ready to book a room block?