Our wedding plans may have been postponed, cancelled or modified to a mini ceremony, but the joy that weddings bring continue to shine. Below are 3 stories that remind us whether you're a couple, a venue or a planner, we're all in this together.
Casandra & Andrae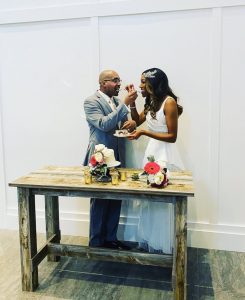 Camela Lynn is a wedding planner in Dublin, Ohio and when her clients' wedding plans got thrown off by Covid-19 they were determined to keep their original wedding date. They shifted their plans to include a minimony, while planning for a sequel wedding in March of next year.
Here are some tips Camela shared with us for couples planning a minimony:
"Planning tips would be to do the big ask with your original venue. We were looking for other options for this small ceremony and kept running into brick walls. Venues that cater to small weddings weren't calling us back or offering solutions."
Having a wedding planner at their side Camela said "I had the idea to ask the venue that they were already booked at if we could have their ceremony space for two hours. Not only did the venue say yes, but they gave it to us for free! We were overjoyed!"
Camela then topped it off by gifting the couple a small wedding cake and ordering them some flowers as well.

Jillian and Travis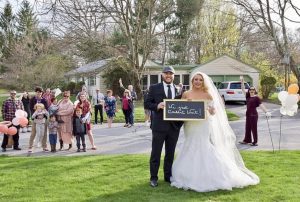 "My husband and I had a minimony on April 25th, 2020. Despite the day not looking how we originally planned, being able to marry my best friend made it the best day of my life. Our closest family and friends surprised us with a socially distant front lawn "reception" complete with balloons, lawn signs, champagne and our first dance! Our vendors have been nothing short of exceptional while accommodating us through this time, and we can't wait to celebrate with all of our friends and family at our "sequel wedding" in November!"
"To any other brides and couples going through the rescheduling or postponement process, just know that at the end of it all, you get to marry the love of your life."
-Jillian
Kaily and Jesse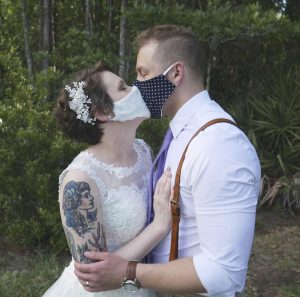 "We had such a great time getting married in my parent's backyard. My sister played the role of hair and make-up, the minister, wedding decorator and photographer! We only had 7 people in attendance, but about 30 people attended virtually. It was a day that we will never forget!"
-Kaily
If you're planning an encore wedding and need
hotel accommodations we're here to help!