Address: 1414 Avenue of the Americas, New York, NY 10019
Why Kleinfeld Hotel Blocks recommends this hotel?
Reopening September 1st, the 1 Hotel Central Park is an eco-friendly luxury hotel, located one block from Central Park. It's a great location for a wedding at the Loeb Boathouse but it's also ideal for anyone who's looking for something unique and luxurious. According to Conde Nast Traveler (& us!) it's one of the top hotels in New York City.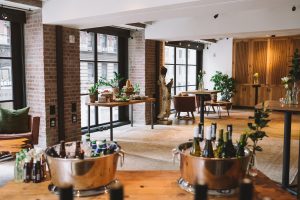 Why we know you'll love it?
The 1 Hotel Central Park is a relatively new hotel in New York City, opened in 2015, which means the rooms are designed efficiently with design and natural light in mind, all of which make for great photos. The rooms also have great amenities such as HEPA-air filters, a full-length mirror, organic bedding, filtered tap water, complimentary WIFI, a 5 min. shower timer, in-room greenery, etc. The hotel is also pet friendly and offers tons of perks for couples looking to host an event there, such as upgrades for parents, champagne, discounted suites, etc. Also if you're looking for a luxury suite, their Greenhouse Suite is over 1,200 sq. ft. with unparalleled views of Central Park, two-bedrooms, two full bathrooms, a powder room, and you can stay the night but also host an event in the suite such as a brunch or rehearsal dinner. If you have specific dates in mind, reach out to us for exact rates on suites, guest rooms, etc.
Why this hotel stands out?

The 1 Hotel Central Park is incredibly unique. It's a luxury eco-conscious hotel that incorporates sustainable practices throughout such as reclaimed wood, cardboard hangers and triple filtered water. The hotel has over 20,000 living plants with at least one in each guest room. It's also a LEED Gold certified building with special touches throughout such as the guest room ceilings which are made from reclaimed barn wood from New York. The shower caddies are from re-claimed sinker Cyprus from the Florida Everglades. The banquet tables are made from shipping pallets and the headboard wood from old New York City water towers. Overall, it's a great hotel, great location and in terms of design, it's hard to compare it to anything else in New York City.
Ready to book your New York City room block?
Many hotels have reopened or will be soon so we're able to book the wedding room blocks for your big day.