Address: 114 E 32nd St, New York, NY 10016, United States
Planning an event in New York City? Let us reserve a hotel room block for your group at The Marmara Park Avenue!
This Park Avenue gem encapsulates the essence of NYC glamor with its historic building, luxurious decor, and prime NoMad location. The building is reminiscent of its days of housing design and architecture studios, with its open concept layout and high ceilings in guest rooms and common areas. The 128 hotel rooms and suites are bathed in natural light from large windows and offer expansive views of the New York City skyline. The luxurious amenities make for a comfortable and convenient stay and the world class hospitality ensures all your needs are met and your expectations are exceeded. The hotel's signature restaurant, Tuti, makes a perfect spot for gathering and dining, while the flexible event spaces lend themselves to hosting a variety of events. Whether you're planning a business meeting, social outing, or wedding celebration, booking a hotel room block and event venue is a breeze at The Marmara Park Avenue with Kleinfeld Hotel Blocks powered by LM Media Worldwide's free service. 
Kleinfeld Hotel Blocks powered by LM Media Worldwide strongly recommends this hotel… Let us tell you why!
All of the 128 hotel rooms at The Marmara Park Avenue are tailored and polished, with inviting interior design featuring New York City-inspired artwork. High end amenities include plush bathrobes, deluxe bath amenities from C.O. Bigelow, and a Nespresso coffee machine. The rooms include complimentary Wi-Fi, Smart TVs, and iPads to keep you entertained, while the spacious work desk is perfect for business travelers. Suites offer up to 700 square feet of space including comfortable bedding, wet bars, and marble bathrooms. Some suites include private terraces to get a taste of the city from the comfort of your room. Residence accommodations are ideal for guests who need more space or those looking for an extended stay. These lofts are equipped with island kitchens and a washer and dryer. For the most luxurious accommodations, choose one of The Marmara Park Avenue penthouses. These sprawling spaces feature panoramic views of NYC, large dining areas, separate living rooms, and ensuite bathrooms. As a guest at The Marmara Park Avenue, enjoy the pool, gym, and spa treatments at the Wellness Center. Whether you're staying in a hotel room block as an event guest, traveling for business, or taking a leisurely trip to explore NYC, a stay at The Marmara Park Avenue is sure to impress.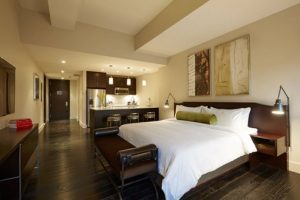 Look no further than the lobby level Tuti Lounge and Bar at The Marmara Park Avenue for all your dining needs. The bold flavors stand out in a sophisticated environment, perfect for a family meal, brunch with your bridal party, or a corporate dinner. The restaurant is known for its extensive breakfast menu, hearty main courses, and light shareables. The restaurant's signature wines from Vinkara make for an extra special experience, while the creative cocktails make for a fun and exciting night out. 
The Marmara Park Avenue takes events to the next level with versatile venues and an experienced event planning team. The 1,375 square feet of meeting space lends itself to productive and inspiring meetings with on-site technical assistance, welcome amenities, and catering services. Business services include complimentary Apple computers in the lobby lounge and concierge services to help arrange transportation and package shipping services. For whimsical outdoor events, the hotel's rooftop provides panoramic views of downtown Manhattan and a stunning ambiance. Event spaces have capacity for anywhere from 12-100 guests and with flexible seating plans. You will have support from the planning stage, to the execution, to the day-of needs, making your event both seamless and memorable.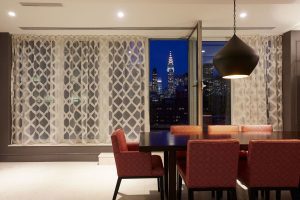 Enjoy discounted group rates and exclusive perks when booking your hotel room block and event space with Kleinfeld Hotel Blocks powered by LM Media Worldwide's free service. In addition, The Marmara Park Avenue puts out seasonal special offers, including complimentary breakfasts, and discounts for booking early and booking longer stays. The Marmara Insider program offers exclusive access to deals and events at the hotel, like discounted stays, early check-in, complimentary upgrades, and a welcome drink. Between the team at The Marmara Park Avenue and our team at Kleinfeld Hotel Blocks powered by LM Media Worldwide, we are committed to providing an exceptional experience at the best value.
Insider travel tips from the experts at LM Media Worldwide:
While in New York City, experience the wonders that The Big Apple has to offer. Check out the iconic sights located within a ten minute drive from the hotel, such as the Empire State Building, Central Park, and Grand Central Terminal. Try out the endless things to do in Times Square, the theater district on Broadway, or outdoor events at The High Line. Take a walk across the Brooklyn Bridge, ride on the Staten Island Ferry, or check out the floating green space at Little Island sitting atop the Hudson River. The best neighborhoods in the area to visit include the artistic Greenwich Village, the classy Upper West Side, the luxurious Upper East Side, and the shops and boutiques in SoHo. It's safe to say that your itinerary will fill up quickly with the extensive list of attractions New York City has to offer!
Want to book your hotel room block or event space at The Marmara Park Avenue?