Address: 121 W 28th St, New York, NY 10001
Why we know you'll love it:
This modern Chelsea hotel is just a stone's throw away from all the iconic New York hotspots: Madison Square Garden, Penn Station, and the Empire State Building. The magic of Times Square and Broadway Musicals is located within 10 miles, easily accessible via the two nearby subway stations. Aside from the usual tourist attractions, the neighborhood of Chelsea has local attractions of its own for you and your guests to explore. This hotel is a great, cost-effective option for those who love to collect Hilton Honors rewards. Between the premium location, special members-only upgrades, and stylish and cozy interior, what's not to love?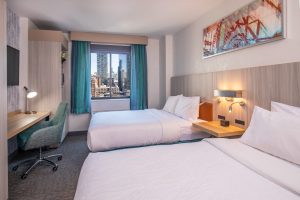 Why Kleinfeld Hotel Blocks powered by LM Media Worldwide recommends this hotel:
This Hilton gem offers a stunning selection of guest rooms and suites to ensure all your guests' needs are accommodated. Each room is adorned with trendy, urban decor and features a spectacular NYC view. This property is pet friendly, and offers free Wi-Fi, valet parking, and special benefits available to Hilton Honors members, such as discounted rates and digital check-in. 
You don't have to worry about going hungry, because the Hilton Garden Inn has got breakfast covered! Head down to the Garden Grille and Bar for a classic American feast each morning before going out to seize the day. 
To ensure your event runs smoothly, Kleinfeld Hotel Blocks powered by LMM Media worldwide will liaise with event planners and venue partners to organize and book the event space and secure all the necessary components for the perfect wedding, meeting, or social gathering. Venues like the Javits Center are conveniently located in the area, so we can easily choose the perfect space based on your needs–just let us know the details and we will take care of the rest!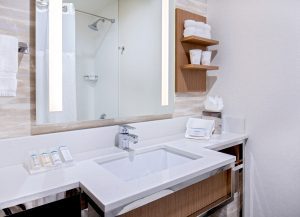 Insider Recommendations:
While you and your guests are enjoying your stay at the Hilton Garden Inn, check out some classic musicals on Broadway, experience the lively happenings in Times Square, and scope out some events at the Javits Center. Or, if you want to experience hidden Chelsea gems, check out Patsai Italian Restaurant or The Commons Chelsea for a quick bite. Stop by the Rubin Museum of Art to experience breathtaking art pieces from throughout history, and finish off the excursion at the Hudson Yards shopping mall for some unique fashion finds.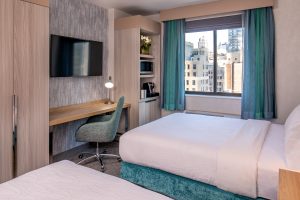 Want to book your hotel room block or event space at Hilton Garden Inn NY Manhattan Chelsea?