Address: 455 Washington Blvd, Jersey City, NJ 07310, United States
Planning an event in New Jersey? Let us reserve a hotel room block for your group at DoubleTree by Hilton Hotel & Suites Jersey City!
Picture this: you're planning a business meeting, corporate function, or social event and you're looking for the perfect venue with accommodations for your out of town guests in an ideal location that's not going to break the bank. It sounds like you're picturing DoubleTree by Hilton Hotel & Suites Jersey City! This hotel offers comfortable suites, flexible meeting rooms, top-tier amenities, and on-site dining options that make it the ideal choice for any event. PATH trains, light rail, and Harborside ferry terminal are all accessible within 5 blocks of the hotel, making traveling around New Jersey and New York City a breeze. Booking a hotel room block for your guests and reserving an event space has never been easier with Kleinfeld Hotel Blocks powered by LM Media Worldwide's complimentary service. If you're looking for the best accommodations for a memorable event at the best price, look no further than DoubleTree by Hilton Hotel & Suites Jersey City!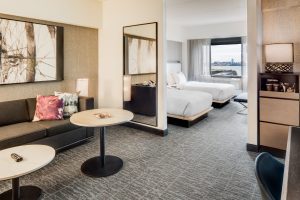 Kleinfeld Hotel Blocks powered by LM Media Worldwide strongly recommends this hotel… Let us tell you why!
The hotel offers convenient amenities to make for a seamless experience. The on-site restaurant makes it easy to grab a quick meal or stay for a nice dinner without having to leave the hotel, while in-room dining provides delicious meals from the comfort of your suite. The fitness center gives guests the ability to keep up their workout routine during their stay, while the meeting rooms and business center gives professionals ample access to everything needed for a productive corporate experience. Connecting rooms are available for those who need them. Hilton Honors members enjoy special amenities, like digital keys, digital check-in, free in-room Wi-Fi, and special experiences. Whether you're traveling for business or leisure, the hotel amenities are sure to provide the utmost comfort and convenience. 
This DoubleTree gem offers 198 spacious suites in a variety of configurations to suit your needs. Whether you're a solo traveler or staying as a family, the suites can sleep anywhere from 1-6 guests. Many of them feature stunning New York City views. Comfortable workspaces boost productivity, seating areas are great for socializing, and plush-top mattresses give you a good night's sleep to prepare for your busy days. Mini fridges, coffee stations, and microwaves are available as well as LCD TVs to keep you entertained. The bathroom's large vanity and aromatic bath products make the perfect oasis for getting ready for a big event or exploring the city. From the stylish decor to innovative amenities, these suites are perfect for booking a hotel room block to suit every guest's needs.
The surrounding area offers many desirable destinations for dining and drinks with your group, but the hotel's restaurant, Hudson Grille, makes it so you can enjoy a delicious meal without leaving the hotel. The relaxed environment makes it perfect for a casual meet-up or group dinner, and the variety of American cuisine ensures every guest will find a dish they enjoy. The flavors reflect the diverse culture of Jersey City, making for a one of a kind dining experience. Whether you're grabbing a bite to eat after a meeting, unwinding with friends over a cocktail, or need a nutritious breakfast to start your day, Hudson Grille has it all. Feel like having a private meal in the comfort of your suite? You're in luck! Enjoy breakfast, lunch, dinner, and late night specialties with the hotel's room service.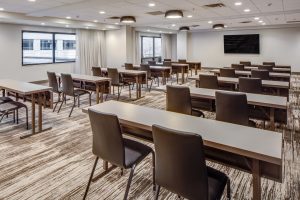 DoubleTree by Hilton Hotel & Suites Jersey City offers 1,316 square feet of total event space that can be broken up to host intimate meetings or used in its entirety to host up to 80 guests for a conference, board meeting, networking event, or any other function you're planning. A/V equipment, catering, and a business center is available to provide everything you need for a successful event. The hotel's experienced event planning team can help you tailor every detail to your liking. Best of all, your guests won't have to scramble to find accommodations to attend your event, hotel room blocks from 10-25 can be reserved for your convenience. 
Many special offers are available for Hilton Honors members, including advanced booking discounts, double points, and premium amenities during your stay. The hotel offers special rates for military families and seniors. When booking with Kleinfeld Hotel Blocks powered by LM Media Worldwide, enjoy discounted group rates on your hotel room blocks and exclusive perks. No matter the scope of your event or the number of guests on the list, our team's industry expertise combined with the hotel's generous offers makes for the best value for the most memorable experience.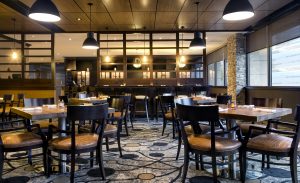 Insider travel tips from the experts at LM Media Worldwide:
A stay at DoubleTree by Hilton Hotel & Suites Jersey City puts you in an ideal location minutes from Ellis Island. Easily access NYC with public transportation and enjoy iconic Jersey City attractions, like Liberty State Park and Liberty Science Center. Harmon Cove Outlet Mall is located 8 miles away from the hotel for your shopping needs, while the City Center is just a mile away for your convenience. Iconic NYC landmarks like the Empire State Building and Broadway are located 4 miles away for you to explore. This hotel's ideal location between the hustle and bustle of NYC and the culture and history of Jersey City makes it perfect for practical access to corporate offices in the city and countless attractions to explore while you're in town.
Ready to book your hotel room block or venue at
DoubleTree by Hilton Hotel & Suites Jersey City?