Planning an event in New York City? Let us reserve a hotel room block for your group at Conrad New York Midtown!
Our team at Kleinfeld Hotel Blocks powered by LM Media Worldwide understands the stress that comes along with planning an event. Whether it's a wedding, corporate meeting, or social gathering, finding the perfect venue and making arrangements to accommodate all the out-of-town attendees can be a daunting task. Luckily, our team of industry experts, specializing in hospitality and sales, can assist you in booking your hotel room blocks and your event space that is perfectly suited to your group, while negotiating the best deals and securing special perks to make your event out-of-this-world amazing.
If you're looking to host your event in the heart of New York City and want to wow your guests with a once-in-a-lifetime travel experience, the opulent Conrad New York Midtown is your perfect choice. The moment you step into the building, you are welcomed by a stunning atmosphere of art and design that sets the tone for your stay. The hotel boasts an exquisite interior design that displays sleek furniture, eye-catching colors, and polished finishes. The 562 residential-style accommodations include magnificent suites and jaw-dropping views of New York City. Every detail of the hotel is thoughtfully curated, from the design to the amenities to the attentive service, to provide every guest with an unforgettable experience that celebrates luxury and sophistication.
Kleinfeld Hotel Blocks powered by LM Media Worldwide strongly recommends this hotel… Let us tell you why!
Conrad New York Midtown has an array of luxury amenities that cater to the needs of every guest. The hotel has a fully-equipped fitness center that provides state-of-the-art equipment and workout studios so you can stay on top of your fitness during your trip. Enjoy delicious meals without having to leave the comfort of your hotel room with the hotel's room services selections, or make your way to the hotel's lobby-level restaurant, Dabble, which provides breakfast, lunch, and dinner menus containing eclectic bites and signature cocktails for your guests between events, or book the entire restaurant for a private dining experience. This hotel is pet friendly to accommodate your furry friends during your stay, and offers a digital key to make your stay even more convenient. For business travelers, the full-service business center provides the essentials to stay on top of work matters between meetings. The hotel also provides high-speed Wi-Fi and concierge services to ensure you have everything you need for a comfortable and memorable stay.
This stunning property boasts elegant and lavishly designed rooms and suites that offer breathtaking views of Manhattan. The award-winning Signature Suites are the true showstoppers, equipped with state-of-the-art amenities, including designer bedding, floor-to-ceiling windows, crystal chandeliers, and ergonomic yet stylish workstations. The hotel's suites are spacious and offer a residential feel and a range of luxurious amenities, including separate living areas, separate bedrooms, and luxurious marble bathrooms.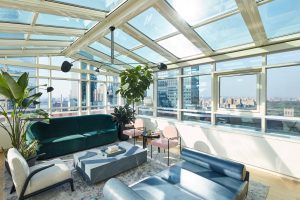 The pièce de résistance at the Conrad New York Midtown is the Atrium Suite, with the fully glassed-in atrium in the living room, panoramic city views, a separate sunken dining area with a wet bar for entertaining guests, and a secluded bedroom complete with grand furnishings and an adjoining bathroom. Whether you're making accommodations for the bride and groom, or esteemed business associates, you can rest assured that Conrad New York Midtown has a luxurious room or suite perfectly suited to any guest. 
Conrad New York Midtown is the perfect venue for meetings and events, boasting multiple meeting and event spaces that offer state-of-the-art facilities and equipment. The hotel's eight meeting spaces are stylishly designed, flooded with natural light from large windows, and can be customized to suit your needs for events, board meetings, and conferences of any size, anywhere from 15-60 attendees. For more intimate corporate gatherings, the four Parlor boardrooms offer flexible private settings with comfortable seating and stylish decor. 
For a free-flowing reception on the second floor, choose The Gallery, which boasts a foyer, bar, and access to two flexible rooms: Contemporary and Modern. Perfect for an elegant reception or a private dining experience, Plume can be accessed from the first floor lobby and configured to suit small to medium-sized groups. For a show-stopping soirée, reserve Penthouse on 54 and wow your guests with the 2,700 square foot two-story suite that offers 180-degree Central Park and Manhattan views and a fully stocked bar. 
If you're looking to host an upscale wedding, the Conrad New York Midtown's luxury suites provide a luxurious space to get ready for the big day, while other venues around the hotel make the perfect spot to host bachelorette parties, bridal gatherings, and preparations for the big day. This hotel is the perfect place to book your hotel room block to keep all of your attendees in one spot, making Conrad New York Midtown the perfect accompaniment to your special day. Our team at Kleinfeld Hotel Blocks powered by LM Media Worldwide can connect you with the hotel's experienced event planning team, who are available around the clock to provide dedicated services to ensure your event's success.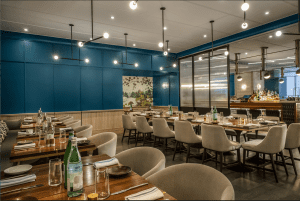 Conrad New York Midtown offers luxurious packages and special offers that cater to the unique needs of every guest. Our team at Kleinfeld Hotel Blocks powered by LM Media Worldwide can secure a discounted group rate for booking a block of 10 or more rooms at this hotel, along with exclusive experiences and savings to make your stay even more special. Some of Conrad's seasonal offers include: "Clock in at Conrad" for up to 8 colleagues to enjoy luxurious meals and special amenities from the comfort of the Sky Suite; "2x Points" for Hilton Honors members to earn double the points during their stay; and a 25% discount for guests of Conrad New York Midtown at the hotel's partner, Exhale Spa, which offers a balance of fitness and physical wellness treatments, such as facials or energizing fitness classes.
Insider travel tips from the experts at LM Media Worldwide:
With vibrant neighborhoods around every corner, exploring New York City during your stay at Conrad New York Midtown is a must-do. For avid runners, Conrad New York Midtown has partnered with "Go! Running Tours!" which takes guests through a custom-themed route, which is by far the best way to explore the city. Take a stroll through the stunning Central Park, admire the Empire State Building, or visit the iconic Statue of Liberty. The hotel is situated in the heart of the city, offering convenient access to all the attractions that make New York City one of the world's most exciting destinations. Kleinfeld Hotel Blocks powered by LM Media Worldwide is proud to recommend Conrad New York Midtown to our clients who value luxury, comfort, and sophistication.
Ready to book your room block or venue at Conrad New York Midtown?