One of the hardest decisions a couple can make is where to get married. The venue sets the mood, the atmosphere and with so many popular venues in Brooklyn such as the The Green Building, 501 Union, Deity, Liberty Warehouse, Brooklyn Botanical Gardens, Russo's on the Bay, or Dumbo Loft, one of the other most important decisions will be, where will your guests stay?
If most of your guests are from out-of-town, you may choose a Manhattan hotel and shuttle guests to the Brooklyn venue so guests can explore the city. Alternatively, if the Brooklyn venue is close to Manhattan, a Lower East Side hotel might work because it's just a quick cab away from many northern Brooklyn venues.  That being said, within the past 10 years, Brooklyn has had a surge in hotel development from 5-star boutiques to well-known chains that make staying in the outer borough easy for everyone.
Most of the hotels are new to the scene, which means larger hotel accommodations and a more modern feel- perfect for arguably the coolest borough in the city. Rates are typically more competitive in Brooklyn as well and many hotels after amenities that in Manhattan would come at an additional cost such as including Wi-Fi and breakfast. That being said, in certain neighborhoods there aren't many hotels so during peak season you might be battling with other groups (not just weddings) that need the hotel so – Book Your Room Blocks Early!
If you're leaning towards a Brooklyn room block, here are our top choices on where to stay:
The Williamsburg Hotel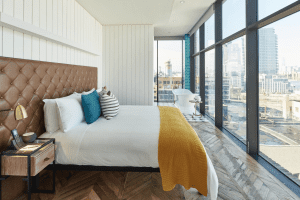 A 5-star hotel located in the popular Williamsburg neighborhood, this is one of those hotels that give you that Brooklyn edge but is also only 1 stop from Manhattan on the subway or a quick cab ride. The hotel was built about 2 years ago so it's new and modern with a rooftop pool (seasonal), the Water Tower Bar which is open year-round and features 360 views where both Brooklyn & Manhattan can be seen, they have a lobby bar as well as restaurant and let's not forget the beautiful Library Bar. There are a lot of ways for guests to enjoy the property, plus the hotel is pet friendly, includes Wi-Fi, and if you're looking to cater an event on property, they have a beautiful ballroom that can accommodate 500 people seated.
The rooms all have outdoor access whether it's a terrace room or a standard room with a balconette, every guest can get fresh air with a beautiful view. Plus, the hotel's Skyline Suite has tons of natural light so it's ideal for the wedding party to get ready in and the hotel will upgrade couples to their Bridal suite based upon the contract (we negotiate this for you).
Currently, there's no gym onsite but the hotel rate includes passes to the nearby Brooklyn Athletic Club.
The William Vale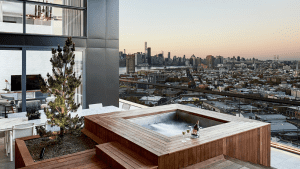 Another pet friendly 5-star hotel in Williamsburg, the William Vale has a signature style from their rooms to their outdoor promenade. All rooms feature floor to ceiling windows with balconies, unobstructed views and if you're looking for luxury suites, they have one of the best. The hotel has several options for suites including one with a wraparound terrace, but the largest is the Vale Garden Residence which is over 1,300 sq. ft. not including the 1,600 sq. ft. patio with a hot tub and a skyline view. It's extravagant and ideal for hosting events or for a few lucky couples who are looking for something extra special. The hotel also has a fantastic Southern Italian restaurant, Leuca, which is part of the Andrew Carmellini family, a rooftop bar, and comfort food service from their food truck, Mister Dips.
The Hampton Inn Brooklyn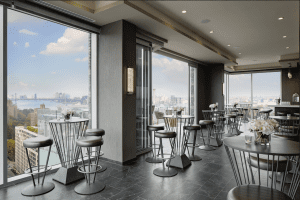 Located in Downtown Brooklyn, this Hampton Inn is different than one might expect. Sure, you get your complimentary breakfast and convenient location, but the hotel also has the Skyline Terrace with a balcony if weather permits, which is perfect for hosting private events such as a rehearsal dinner, after party or farewell brunch. Plus they have the Brooklyn Suite, which has natural light and is ideal for the wedding party to get ready in.
 The Tillary
Also located in Downtown Brooklyn, down the road from the Hampton Inn, is the Tillary. A boutique hotel with a rooftop beer garden and lobby restaurant, the Tillary is a fun modern hotel. Their hotel is all about personality with a lobby that has rich velvet furniture, with a giant magnetic scrabble board and gold accents throughout. Their rooms start at 250 sq. ft. (large by NYC standards) with sleek neutral colors and they have various suite options, including one with a terrace and breakfast is included as well as Wi-Fi.
The Holiday Inn Express Brooklyn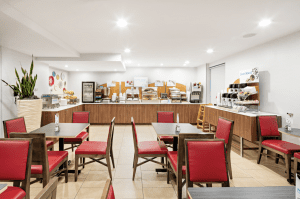 You always know what to expect at a Holiday Inn Express, nice rooms, Wi-Fi and a full hot American breakfast. This hotel is ideal for couples getting married at 501 Union since the hotel is walking distance from the venue, but it's also popular amongst couple's getting married at the Green Building, The Bell House, Littlefield, and the Montauk Club. If you're booking via Kleinfeld Hotel Blocks, we negotiate discounted parking passes as part of your room block as they do have a small parking lot, but the hotel is also ½ a block from the subway station with four train lines, the D, N, R & W which go into Manhattan as well as other parts of Brooklyn.
The downside is that the hotel doesn't have suites but they do have a King Jacuzzi room which is their upgraded room category.
Nu Hotel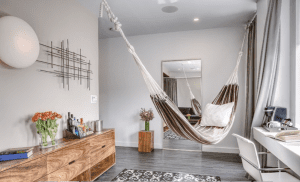 Located on the popular Smith Street in Downtown Brooklyn, the Nu Hotel has a residential Brooklyn vibe with dynamic original art located throughout the hotel. With tons of shopping and transit nearby, this hotel has a prime location, includes breakfast for guests, is pet friendly, has complimentary bicycles you can rent, and an all-day coffee, tea and water bar in the lobby. Each room features a unique personality with art reflecting that, but the Urban Suite is perhaps the best example of being original. It's the only hotel room we've seen in NYC with a hammock in the room. And we should mention, the hotel has great rates as well!
To book your room block, contact us today.
We recommend booking your room block about a year before your wedding.