Why Kleinfeld Hotel Blocks recommends this hotel? 
Located in Midtown East, Millennium Hilton New York One UN Plaza is close to several Manhattan venues like The Water Club, Bryant Park, Grand Central Terminal, Cipriani 42nd Street and 620 Loft & Garden, as well as The Foundry and Metropolitan Building in Long Island City.
Photo-worthy views of the Midtown skyline, posh rooms and suites, and a distinctly cosmopolitan vibe make this hotel "an NYC icon," as stated by Forbes. Special perks for wedding parties, married with Hilton's best-in-class event standards, also make the hotel an excellent option for couples seeking an experience that's unexpected yet unmistakably NYC.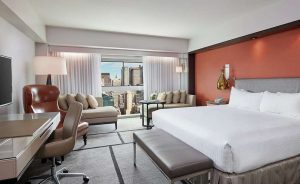 Why we know you'll love it?
Hotel event spaces include the Landmark Room, an iconic high-rise venue decked out with sparkling mirrors and floor-to-ceiling windows. At 925 square feet, it's an ideal venue for receptions or rehearsal dinners with a breathtaking view.
Speaking of views, the property has some of the best in the city. Its two towers have sweeping views of the Empire State, Chrysler, and U.N. Buildings; Roosevelt Island and the East River, and downtown to One World Trade. And because each of the hotel's 439 contemporary rooms and penthouse-style suites are located on the 28th floor or above, your guests will walk in and drop their jaws right along with their bags.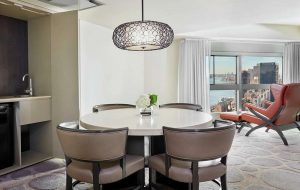 You'll also love the neighborhood. While still convenient to everything on the island, Midtown East has a refreshingly calm, relaxed feel. There are no cramped sidewalks or blaring horns in this pocket of Manhattan; just beloved shops and restaurants, great photo ops at the Tudor City Bridge, and old-school New York charm.
Wedding blocks are eligible for perks including Hilton Honors Points, negotiated rates, package deals on event space with food and beverage, and suite upgrades for brides and grooms. As a Hilton property, the hotel also adheres to the brand's CleanStay and EventReady protocols—curated solutions for every step of your event planning process to create experiences that are clean, flexible, safe, and socially responsible.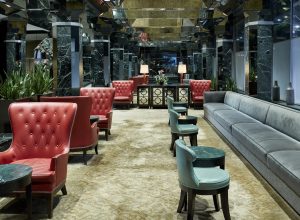 Why this hotel stands out?
For more than 40 years, Millennium Hilton New York One UN Plaza has been the hotel of choice for ambassadors, diplomats, and heads of state visiting the United Nations. Architecture lovers will appreciate that the property was designed by the late postmodern icon Kevin Roche. The Pritzker Prize winner designed many of the most renowned buildings in NYC, including the TWA Terminal, Ford Foundation, the Museum of Jewish Heritage, and additions to The Met.
The hotel's lobby and restaurant, Ambassador Grill, are also Roche masterpieces. Adorned in marble and mirrors, they're considered two of the best representations of New York's 1970s opulence and were the youngest spaces to ever receive NYC Landmark Status. These spaces are glamorous, uniquely NYC, and everlasting: in other words, the perfect symbol for our newlyweds!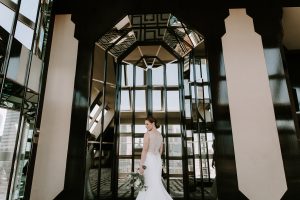 Want to book your wedding room block at Millennium Hilton NY One UN Plaza?