Address: 1111 E Cabrillo Blvd, Santa Barbara, CA 93103, United States
Planning an event near Santa Barbara, California? Let us reserve a hotel room block for your group at Mar Monte Hotel. 
Calling all laid back beachgoers! If your dream hotel experience consists of being steps away from the ocean and surrounded by palm trees, Mar Monte Hotel in Santa Barbara, CA is for you. This boutique hotel is the epitome of West Coast flair, with its breezy balconies, coastal-modern decor, and large windows showcasing the stunning view of the American Riviera. Let's explore what this gorgeous waterfront property has to offer, from guest rooms and event spaces to dining, special offers, and local attractions.
Kleinfeld Hotel Blocks powered by LM Media Worldwide strongly recommends this hotel… Let us tell you why!
Each room is elegantly designed, combining modern aesthetics with a touch of coastal charm. When reserving your hotel room blocks, you can choose from over 200 rooms and suites, or for an extra special experience, book your stay in the Palmoro House, which is located 1.5 blocks from the main hotel and offers suites of varying sizes, complete with the finest amenities, such as separate living rooms and comfortable Murphy beds. Your guests are sure to feel pampered and relaxed waking up to breathtaking views of the crystal blue waters and the Santa Ynez Mountains each day during your stay.
In addition to exceptional accommodations, Mar Monte Hotel boasts impressive event spaces for hosting gatherings of all sizes. Whether you're planning a laid back corporate conference, a beachy wedding reception, or a social celebration, we can connect you with the hotel's experienced event staff to ensure every detail is meticulously taken care of. Consider one of the Pacific Ballrooms for a larger formal event, one of many outdoor terraces for a social gathering in the fresh air, or one of the boardrooms for a corporate meeting.  From state-of-the-art A/V equipment to flexible seating arrangements, Mar Monte's event spaces are designed to create a memorable and seamless experience for you and your guests.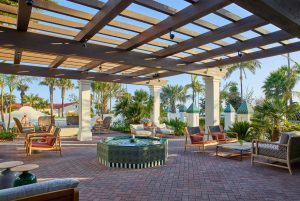 After a day of meetings or event activities, it's time to indulge in the culinary delights offered by the Mar Monte Hotel's dining options. Visit costa Kitchen & Bar for coastal-inspired Italian cuisine and prepare to be dazzled by Eastern Mediterranean offerings and the local wine list. For cocktails and lighter fare, you and your group can head over to Café Lido near the hotel's pool deck. Whether you're looking for a casual gathering spot or an elegant dining venue, the Mar Monte Hotel has you covered.
To make your event planning experience even more enticing, the Mar Monte Hotel often features special offers and packages. Our team at LM Media Worldwide can negotiate the best deals and secure promotions to provide added value and perks, making your event more memorable while staying within budget. We will be on the lookout for discounted room rates, complimentary upgrades, or exclusive event packages that include access to additional amenities or services.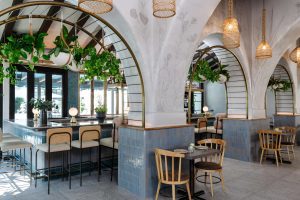 Insider travel tips from the experts at LM Media Worldwide:
When it comes to exploring the area around the Mar Monte Hotel, you'll find an abundance of attractions and activities to keep your guests entertained during their downtime. The hotel's prime location offers easy access to beautiful beaches, charming coastal towns, and cultural landmarks. Check out the Bocce Ball Court for a fun game with friends and family, or wake up with the sunrise at beach yoga. For the wine lovers in the group, book a Santa Barbara Coastal Concierge Wine Tour and experience the region's top wineries. For an out-of-this-world experience, check out the Funk Zone, a series of converted warehouses transformed into boutique tasting rooms, trendy cafes, and hip graffiti murals perfect for a travel photo op. Whether your guests are interested in outdoor adventures, shopping excursions, or exploring local art galleries, there's something for everyone in the surrounding area, and we can help steer you in the right direction!
Tell us more about your event and we can help you book a hotel room block for your event at the charming Mar Monte Hotel to provide an exceptional experience for you and your guests. From the elegantly designed rooms and versatile event spaces to the delightful dining options and special offers, every aspect of your stay is carefully curated to ensure comfort and satisfaction. Combined with the various attractions and culture in the area, your event is sure to be talked about and remembered for years to come!
Want to book your hotel room block at Mar Monte Hotel?