Address: 400 High Ave, Nyack, New York, United States, 10960
Why we know you'll love it:
This chic, urban hotel nestled in Rockland County, NY started out as an industrial landmark but has since blossomed into a stylish, chic destination. Located 19 miles outside of Manhattan, this is the best of both worlds for those who love the city but also appreciate some down time. Packed with vibrant decor and luxury amenities, all of your dining and living needs will be surpassed. Beautiful views of the Hudson River await from the balconies, and the surrounding area of Nyack is yours to discover.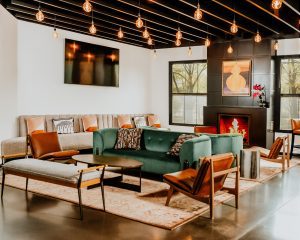 Why Kleinfeld Hotel Blocks powered by LM Media Worldwide recommends this hotel:
Hotel Nyack offers 133 unique, loft style rooms and suites with vaulted ceilings, oversized windows, and vibrant color schemes. These spaces offer 500+ square feet of carefully curated decor and furnishings to bring you comfort and excitement amid the artistic touches. For stunning river views, choose a king bedroom with balcony access.
Enjoy hearty meals made with fresh local ingredients at Hotel Nyack's on-site restaurant and bar. 
Hotel Nyack has seven event spaces to choose from totaling 6,946 square feet, each one with its own unique character. Host a wedding in the ballroom, meet with your team in the boardroom, socialize with guests in the speakeasy, or relax with friends on the outdoor patio–the possibilities are endless! They can set you up with the latest A/V equipment, catering services, and everything you need to design your perfect special day. We will negotiate and secure you the best packages and deals to get the most of your stay and your events.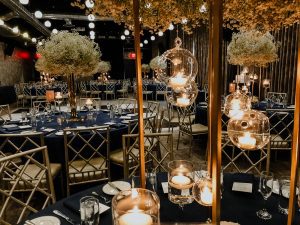 Insider Recommendations:
Hotel Nyack's prime location at the foot of the Mario Cuomo bridge makes it easy to explore the wonders of NYC and Upstate NY. Experience Nyack's local eats at Brickhouse Food & Drink for a slice of NY pizza, or start your morning with brunch at Strawberry Place. Visit the Edward Hopper House Museum to learn about the area's history, then check out the boutiques at the Palisades Center for some unique shopping finds. For a classy excursion, go for a wine tasting at the idyllic Hudson Valley wineries. No matter your interests, Nyack has something for everyone to do!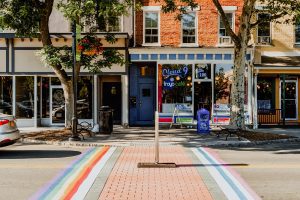 Want to book your hotel room block at Hotel Nyack?