Address: 37 W 24th Street, New York, NY 10010
Why Kleinfeld Hotel Blocks recommends this hotel?
A newcomer on the NYC hotel scene, the Hotel Henri is located right by Madison Square Park which doesn't have many hotels in its immediate area. It's a nice option for couples getting married at Manhattan Penthouse or the Midtown Loft and Terrace. Plus, it's close to Kleinfeld Bridal so if you need some last minute accessories it's walking distance. We also love it's proximity to some of NYC's best restaurants such as Eataly, Gramercy Tavern, Cosme and the original Shake Shack.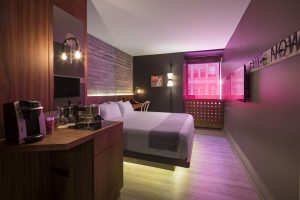 Why we know you'll love it?
If you like small properties, the Hotel Henri boasts 118 rooms which for a wedding means your day is going to be special. While some of the larger hotels can accommodate 5, 10, even 15 weddings in a weekend, it's likely at a smaller property like the Hotel Henri, it'll just be you. That's a nice perk in addition to their rooftop speakeasy bar, The Sir Henry Rooftop Penthouse Bar and their  Greek Island patio restaurant, Rodos.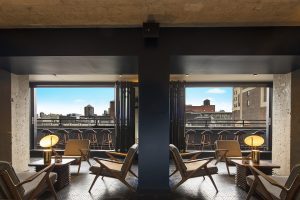 Why this hotel stands out?
An intimate setting in New York City is a gem and this Hotel Henri accomplishes that. We also love the nod to Broadway that designer Marcello Pozzi intended with black corridors and mirror lights imitating what you'd find backstage. Also while the hotel doesn't have a fitness center, they do offer an access pass to Limelight Fitness.
Ready to book a room block?
*Kleinfeld Hotel Blocks has access to exclusive concessions with this property. Ask your consultant for more information once you get started with the link above.*