Address: 127 W 28th St, New York, NY 10001
Why Kleinfeld Hotel Blocks recommends this hotel?
A modern boutique tucked away in New York City's Flower District, the Hotel Hayden offers competitive room rates while also providing some unique features. One of the top features of the hotel is the rooftop bar and restaurant, Mykonos Bleu. You'll see part of it as soon as you walk into the lobby but the rooftop is hidden inside the hotel as well (just ask). The hotel will also waive fees exclusively for our groups which is big perk.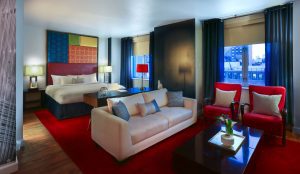 Why we know you'll love it?
This hotel's location works well for couples getting married at Midtown Loft & Terrace, Gotham Hall and Pier 60. It's a quick walk from the 1 train and R, W lines, which makes it easy for guests visiting from out of town to get around. It's also about 10 min. from Kleinfeld Bridal so if you want to shop for any last minute accessories it's convenient.
They don't have suites in the traditional sense but for couples who don't have a large wedding party, you'll love their premium deluxe king rooms (only 3 in the hotel) which each have their own balconies.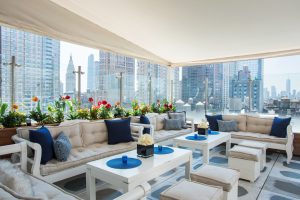 Why this hotel stands out?
Smaller boutique hotels often don't have meeting space to host a brunch or private reception. While the Hotel Hayden is a smaller hotel, only having 120 rooms which certainly puts it in the boutique category, it has meeting space that can accommodate 20-40 guests.
Also typically with a boutique hotel the guests sacrifice being able to collect hotel loyalty points but because the Hotel Hayden is part of the iPrefer network, guests can collect loyalty points.
Ready to book a room block?
*Ask about the exclusive concessions we have for our groups*