Address: 102 North End Ave, New York, NY 10282
Why Kleinfeld Hotel Blocks recommends this hotel?
An all-suite luxury hotel, the Conrad New York Downtown has the largest standard guest room suites in downtown Manhattan and frankly most of New York City. It's located in Battery Park City (which is a newer developed part of New York City), walking distance to the One World Trade Observatory, the 9/11 Memorial, the New York Stock Exchange, etc. It's also across the street from Brookfield Place and Westfield shopping centers, which has luxury shopping as well as tons of dining options. But if you don't want to leave the property, no worries because the hotel has a restaurant on property and the seasonal Loopy Doopy rooftop bar.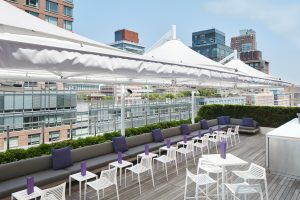 Why we know you'll love it?
The location is ideal for photo opportunities. Located right on the water, you can capture beautiful city view photos along the water, the Conrad's architecture is beautiful as well so feel free to take advantage of that indoors and overall the options are endless as well as within walking distance so you don't have to worry about losing too much time traveling.
Another perk is that the hotel has the largest rooms in downtown Manhattan so if you don't want to splurge for a suite, a standard guest room can accommodate a small bridal party getting ready. The rooms range from 430 sq. ft. to 1,500 sq. ft. for the penthouse.
Let's not forget the hotel also has a ton of meeting space (they can accommodate up to 600 people) so hosting a brunch or rehearsal dinner on property is no problem and if you want to host something off property there are a ton of options nearby as well with restaurants big enough to accommodate larger groups.  The Institute of Culinary Education is also within walking distance and another option for a group activity if you wanted to host a cooking class or do a wine tasting.
Overall there are a ton of options in this area for guests to do on their own or for you to host an event.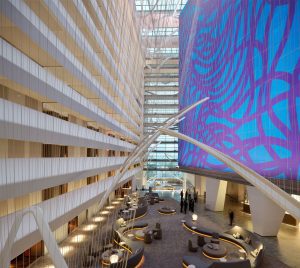 Why this hotel stands out?
As if the above wasn't enough, the hotel features 2,000 exclusively curated works of art throughout the hotel including commissioned lithographs that can be found in each guest suite. They also have sustainability initiatives which donates unused food, monthly soap donations, a commitment to reducing plastics on property with paper straws, etc.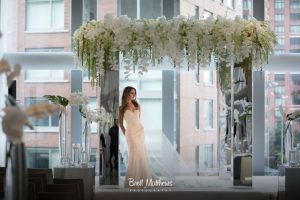 Ready to book a room block?